Instances of Trademark Troubles
On this page, we introduce example cases of troubles involving trademarks. HARAKENZO WORLD PATENT & TRADEMARK have been providing measures to solve such troubles in advance, contributing to development of a sound social economy for which the Japanese Trademark Law was originally established.
Index
Q1. We were using a mark for our products without having it registered as a trademark. However, once our products became popular, imitations of our product with that mark are distributed in the market. How can we stop this?
A1. If the mark is not registered as a trademark, you cannot demand, suspension of the infringement, compensation for damages, refund of undue profit, measures to restore credibility, etc. In the worst-case scenario, the infringer may demand compensation for damage from you and/or may try to force you to change the name of your product. It is not easy to fight against such actions unless otherwise your unregistered trademark is exceptionally admitted to be publicly-known and/or famous. Trademark is one of your important properties. In order to protect your important intellectual properties, we recommend filing an application for registration of your trademark as soon as possible.

*Right of prior exploit may be exceptionally admitted only in a case where the mark has been continuously used without the user knows his using infringes a trademark holder's right and has been publicly-known.
*In a case where an action of your opposing party is causing confusion as to "display of a publicly-known or famous product", the action may fall under the breach of the Unfair Competition Prevention Act. Even in such a case, however, it is still difficult to prove that the mark of such a product is publicly-known and/or famous.
STEP 1: "What is Trademark?"
[Outline of Trademark Right]
Trademark
Trademark is a symbol, a mark, etc. that distinguishes, from other products or services, a product or service with that symbol or mark.
Trademark Right
Trademark right is an exclusive right to exploit a trademark.
Purpose of Japanese Trademark Law
The purposes of the Japanese Trademark law are to secure the confidence of entrepreneurs and to protect the interests of consumers through the protection of trademarks (Article 1 of the Japanese Trademark law).
Types of Trademark
Types of trademark encompass any character(s), sign(s), figure(s), three-dimensional shape(s), any combination thereof, etc.
Q2. I sold a product whose name was conceived by me. However, another person started claiming that the exploitation of the name is infringing his/her trademark. Why is that possible?
A2. Even through you conceived that name by yourself, you cannot lawfully continue using the name in the course of business unless otherwise the name is registered as a trademark (this is called the "first-to-register principle"). Further, not all names can be registered. You can only register a name (i) which you intend to use as a trademark and (ii) which has distinctiveness. Trademarks which may cause confusion, which are similar to publicly-known trademarks, or which are contrary to the public order and standards of decency will not be registered. Please be advised that even though you exploit a trademark that is conceived by yourself as with the above case, another person who has registered a trademark similar to yours may hold a right to claim the exploitation of such a trademark.

STEP 2: "What's Trademark Registration?"
[Outline of Trademark Registration]
Application for Trademark Registration
A mark for which registration is sought and the designated goods to which the mark applies must be stated in the trademark application.
One Application for One Trademark
One application can include only one trademark.
First-To-Register Principle
Since it is difficult to determine whether a trademark for which registration is sought has been already used by somebody, the Japanese Trademark Law employs the first-to-register principle based on which any trademark that fulfills the requirements is registrable (however, the Japanese Trademark Law has been partially revised in view of the first-to-use principle, and for example, there is a system for cancellation due to non-exploitation).
< Procedure for obtaining a Trademark Right >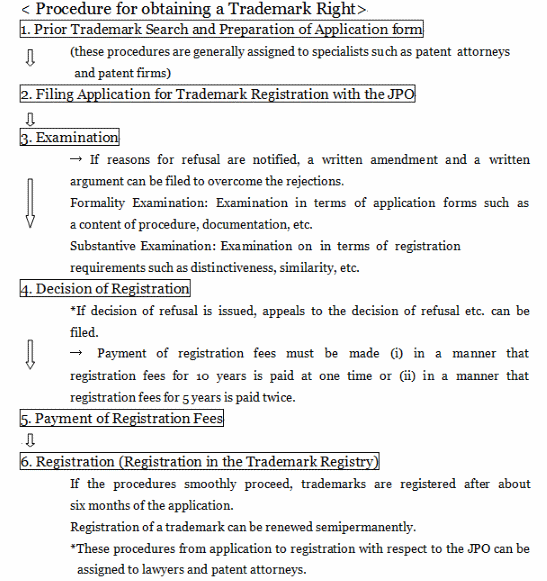 < Registration Requirements >
Not all marks can be registered as trademarks.
In the substantive examination, a mark for which registration is sought is examined as to whether the mark fulfills the following registration requirements:
1. The applicant of the mark has intent of use of the mark (Article 3 of the Japanese Trademark Law)
2. The mark has distinctiveness (the mark indicates the origin of a product or service) (Article 3 of the Japanese Trademark Law)
Trademarks such as common names, customarily used trademarks, descriptive trademarks, very simple and common trademarks, etc. that may cause confusion lack distinctiveness, and thus cannot be registered.
3. No grounds for unregistrability is found (Article 4(1) of the Japanese Trademark Law)
Example of Absolute Grounds for Unregistrability
Trademarks that are contrary to the public benefit cannot be registered (e.g., publicly used marks, marks that mislead the quality or origin of a product, etc.)
Example of Comparative Grounds for Unregistrability
In view of protection for private benefit, trademarks that cause confusion with a registered trademark etc. of another person (prior trademarks, trademarks that have already been used, name and portrait of another person, etc.) cannot be registered.
First-To-File Principle
The JPO does not accept registration of two or more identical or similar trademarks in connection with identical or similar designated goods or designated services.
Therefore, it is necessary to file an application for a trademark before the trademark is registered by another person.
Document-Based Principle
Goods or services to which the trademark applies must be designated in the request of application in accordance with the Japanese Trademark Law.
Selection of such designated goods is very important. Please feel free to consult us.
Difference with Patent System
In the trademark system, there is no system for requesting examination of application. Therefore, all trademark applications are examined without request.
However, the trademark system also has the application publication system.
< Note >
* Negation of Commercial Use
In some cases, exploitation of your trademark by a third party is not recognized as infringement of the trademark if that trademark is used in such a manner that distinctiveness of the trademark is not harmed.
* Is there a way to continue using a product name which has been used without registration?
It is possible to argue for a right to use the trademark, argue for an improper use of the trademark, etc.
Q3. We made small changes to our trademark and used it. However, the registration of that trademark was then cancelled. Can't we make tiny changes to a registered trademark?
A3. If the trademark to which the change has been made is identical with the registered trademark in view of common sense, the use of the changed trademark may be allowable (Article 50 of the Japanese Trademark Law).
(Example)
A trademark whose font is changed, a trademark whose characters are converted into Hiragana characters, Katakana characters, or Latin alphabetic characters from other characters (provided that pronunciation and concept of the trademark are identical with the registered trademark), a trademark consisting of figures that are identical in terms of appearance with those of the registered trademark, etc. are allowable.
Please be advised that if a trademark has not been used for three consecutive years, the trademark may be cancelled. We therefore recommend to keep the evidence that proves the use of the trademark.

STEP 3: System of Trademark Law
[Effects of Trademark Right]
The holder of a trademark right has an exclusive right to use the registered trademark in connection with the designated goods or services and can forbid another party from using the registered trademark or a trademark similar thereto in connection with goods or services identical or similar to the designated goods or services.
< Scope of Trademark Right >
Designated Goods • Services
Identical
Similar
Not Similar
Trademark
Identical
Right of Exclusive Use
Right of Prohibition
×
Similar
Right of Prohibition
Right of Prohibition
×
Not Similar
×
×
×
× indicates the scope to which the effect of a trademark right does not reach.
*The scope to which the effect of a trademark right does not reach.
E.g., Use of somebody's name, normal name, descriptive trademark, commonly-used trademark, etc.
* The effect of a trademark right obtained in Japan does not reach foreign countries. In a case where you wish to have a business in a foreign country, it is important to obtain a trademark right in that country. Please refer to the page for Overseas Trademark.
< How Similarity is Determined? >
禁止権の範囲においては独占権がないので類似の範囲を自ら使用することができません。
< How Similarity is Determined? >
Whether the trademark causes confusion is determined based on the appellation (pronunciation), idea (meaning), and appearance.
(How the trademark is used is also taken into consideration.)
[If your trademark right is infringed]
You may demand the following rights:
• Right to demand injunction
• Right to demand compensation for damages
• Right to demand recovery of unfair profit
• Right to demand measure to restore credibility
• Right to pursue criminal liability
[If you are warned of trademark right infringement]
You may take the following measures:
• File an objection
• Demand a trial for invalidation
• Request for cancellation of the trademark for non- use
• Request for cancellation of unauthorized use
[Problems that may occur if your trademark is not registered]
• If you continue to use your trademark without having it registered, it becomes difficult to protect that trademark from unfair use and infringement.
⇒In the worst-case scenario, you may infringe another party's trademark right and compensation therefore may be demanded.
• If another party files an application for your trademark and the application is once granted, it will be impossible for you to use that trademark as long as a prior use is admitted.
⇒In the worst case scenario, you will have to change the trademark of your company.
< Reference >
*Right of Prior Use
If the unregistered trademark is used with good intention (not for unfair purpose), the unregistered trademark has been used prior to application filed by another party, or the unregistered trademark is well-known (famous among consumers to a certain intent), continuous use of that unregistered trademark may be exceptionally recognized.
*Unfair Competition Prevention Act
The Unfair Competition Prevention Act stipulates provisions for protecting unregistered but well-known or famous trademarks.
(Source: Study Group of JPO Trademark Examination Practice, Basic Knowledge of Trademark Practice, Website of JPO)