For those engaged in music industry
Index
(1) Introduction
Music is a culture with which people have been familiar from ancient times.
With music, people sometimes change their feeling, or become sentimental. Music has been used not only for joy, but also as an expression of an idea of an individual or society. Music is very close to us, and is essential and important to us. Also in Japan, various kinds of music have been created with various instruments from traditional ones to electronic ones fully using the state-of-the-art technology, and have given significant effects on developments of Japanese cultures and economies.
With changes in the times, music has been delivered to people through various media such as radio broadcasting, cassette tapes, and CDs/DVDs. In recent years, with the development of digital technology, delivery of music has come to be made in entirely new manners such as distribution via the Internet and cloud services, causing great changes in the music industry. In such a digital leading age, sales of music software are dropping due to the problem of illegal copy, together with diversification of entertainments and the like.
In contrast, a music market providing "real" experiences such as live concerts and music festivals where people can experience music first-hand has been expanding, coming to put a more emphasis on profits from live events. Thus, the music industry has been on the way of changing.
As a problem relating to music, copyrights come up for discussion the most. However, in managing music related business, protection with trademark rights is also very important to securely proceed business while protecting good images held by consumers and business confidence (of course, we also provide consultation about copyrights).
In order to register a trademark, it is necessary to file a trademark application in accordance with the classification of designated goods and services specified by the Japan Patent Office (JPO). The classification of designated goods and services specified by the JPO are often different from those generally considered, and so it is necessary to designate a good or service appropriately.
This page is intended to provide those of you engaged in the music industry with useful information in filing a trademark application.
(2) Marks relating to artists
(i) Artist names
Under the current Japanese practice, mere display of artist names, band names, stage names etc. on CDs are regarded as expressions which "merely express contents of products," and do not function as a distinctive mark from another product, and in principle, do not apply to trademark use.
(ii) Sales of goods
In a case where goods relating to artists are sold, it is necessary to carefully consider to which class goods to be sold belong, since classification of goods is very exact.
The followings are examples of classes of representative goods.
Class 14: key rings
Class 15: picks
Class 16: photographs, scorebooks, stickers
Class 18: bags
Class 24: towels
Class 25: wristbands, T-shirts, clothing, footwear, hats
In order not to be infringed by other people with a counterfeit, and not to infringe other people's right without intention, obtaining a trademark right, which is an exclusive right, has a significant meaning as "insurance" so as to securely conduct business while avoiding troubles.
(3) Music software, distribution of music etc.
Music sources such as music CDs and music files for Internet distribution themselves are registered under Class 9. However, tangible products such as CDs and DVDs, and intangible products such as music data which is used through downloading are designated separately in the same class. Actually, at present, music is often sold both on CDs and on the Internet. Such a case requires designating target goods both as CDs and music files to be distributed on the Internet.
Examples of Class 9:
"audio compact discs,"
"audio DVD," "other records,"
"downloadable music files"
etc.
*DTM software
DTM software is one of software used in DTM (Desk Top Music) which produces music on PCs. The DTM has become famous in a single bound by "Hatsune Miku" etc. which employs VOCALOID (YAMAHA), which, in recent years, has become popular as a new way of enjoying music.
In filing a trademark application for such DTM software, a class to be designated include Class 9 "computer programs", and in a case where the DTM software is sold in package, Class 9 "data media storing computer programs," or "downloadable computer programs" etc.
(4) Music live concert, and music event related business
In recent years, music software market has been in sluggish growth. However, a market of music live concerts where people can actually experience music (not through devices) has been steadily expanding. In the past several years, music live concert business has had many new comers, and audience numbers in live halls and sales expansion of related goods have been increasingly emphasized. The music live business now seems to be most excited in the music industry.
In a case where an application of a trademark regarding the above music live business is to be filed, a class to be designated is Class 41.
Examples of Class 41:
"organization of shows of movies, performances, and theatrical performances or music performances,"
"live performances,"
"production or performances of theatrical performances,"
and "music performances"
(5) Musical instruments etc.
"Musical instruments" related goods, as a whole, are registered under Class 15. Class 15 includes "guitars," "base guitars," "drums," "music synthesizers," "pianos", and also include "wind instruments," and "brass instruments," and even include Japanese traditional instruments such as "kotos," and "samisen (three-stringed musical instrument)."
Further, Class 15 also covers peripheral instrument products such as "drum sticks," "picks," "instrumental cases," and "instrumental pedals."
On the other hand, electronic devices such as "instrumental amplifiers," "instrumental effecters" and "electric or electronic instrumental phasers" belong to Class 9.
(6) Retail sales and services
Finally, for people engaged in retail sales and services which connect to end users, for example, a trademark of a CD shop can be registered under Class 35 as "retail or wholesale services in audio CDs and video DVDs."
In connection with the above (5) instruments, an instrumental shop is classified in Class 35 as with the above CD shop. In addition, if the instrumental shop also offers instrumental repairing and tuning services, it will be necessary to consider designation of Class 37 "instrumental repairing or maintenance," "instrumental tuning" etc.
Further, in case of karaoke shop, a trademark will be registered with designation of Class 41 "providing karaoke services."
(7) Famous cases in music industry
The followings are three famous cases regarding trademark rights in the music industry.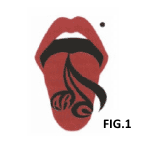 (i) The Rolling Stones tongue and lip logo case (January 13, 2010 in Japan's Intellectual Property High Court)
An opposition was filed claiming that a tongue mark (Fig. 1) (registered trademark of the present case) which is used as a mark of Acid Black Cherry (rock band in Japan) is confusable with a cited trademark (Fig. 2) which is famous as a mark of the Rolling Stones. As a result, the opposition was admitted, ordering goods and services relating to music be partially revoked. In response, the plaintiff sued for revocation of this decision.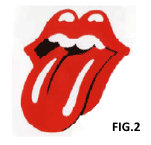 In the ruling, the above decision was revoked saying, "the appearance of one of the trademarks is a front figure, whereas the appearance of the other trademark is a three-dimensional oblique figure, so that their appearances are different from each other, and their appellations and concepts cannot be regarded similar. Further, the cited trademark is well known to people in the music industry as a mark representing goods and services of the Rolling Stones, and there is no possibility that music fans will mistake the present trademark for the cited trademark, and confusing them."
(ii) ELLEGARDEN case (March 13, 2008 in Japan's Intellectual Property High Court)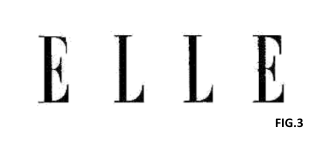 The trademark holder in France (lower court plaintiff) of the trademark "ELLE" (magazines, clothing, textile goods etc. are designated, Fig. 3 is one of examples) required an injunction etc. against a trademark used by a rock band "ELLEGARDEN."
"ELLEGARDEN" produces and sells its goods such as T-shirts, wristbands, stickers, towels etc. and music CDs to which digitally designed "ELLEGARDEN" trademark attached. The plaintiff required an injunction against use of the trademarks to the above goods and music CDs.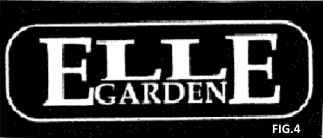 In the lower court, most of the plaintiff's demand was admitted, and similarity was admitted in both goods etc., and music CDs. However, in the appeal court, similarity in the goods etc. was denied, and the demand regarding other than a logo (Fig. 4) which is used for music CDs and WEB site was all dismissed.
Regarding the requirement for the injunction on the basis of "ELLE" trademark right, in the appeal court, the requirement for the injunction was dismissed saying that (i) the term "ELLE" does not have significantly high distinctiveness since the term "ELLE" simply consists of four alphabets which means "she" in French, and in appellation, the term "ELLE" has only two characters in Japanese, (ii) there is no reason in its appearance for dividing "ELLEGARDEN" into "ELLE" and "GARDEN" to understand, and (iii) in view of the fact, for example, that the rock band "ELLEGARDEN" itself is a famous group, and this rock band has used this trademark since 1998 continuously, and on the basis of actual usage of the two trademarks ("ELLE" and "ELLEGARDEN") etc., there is no risk of confusing the sources of the two trademarks and therefore the two trademarks are not similar.
Meanwhile, regarding the mark (FIG. 4) which is used on CDs and WEB site, it was ruled that there is similarity with the "ELLE" trademark, since "ELLEGARDEN" is expressed in two lines and "ELLE" is magnified, and therefore this mark has a quite similar design to the "ELLE" trademark.
(iii) BOSS case (August 26, 1987 in Osaka District Court)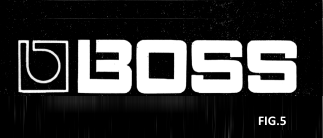 BOSS (defendant) which was producing and selling amplifiers, effectors etc. for musical instruments distributed free T-shirts as a novelty for purchasers who bought instruments. The T-shirts had the trademark "BOSS" (FIG. 5) in large letters at a breast position, and messages "for sound innovation on stage" under the trademark "BOSS."
The plaintiff, a right holder of the trademark "BOSS" for which clothing etc. was designated sought damages, claiming that such performance would violate the trademark right.
In the ruling, the plaintiff's demand was dismissed, saying "products in the Trademark Act means a product itself, and does not include a package of a product and an advertisement regarding a product. Whether a certain product is an independent one or merely a package or an advertisement medium for another product should be determined on the basis of whether the product itself has a value for exchange and is treated as a target of an independent commercial transaction. The defendant only distributed, to purchasers, the T-shirts on which the same trademark as the product attached as a novelty, and does not regard the T-shirts themselves as the target for a commercial transaction. Therefore, the T-shirts are merely an advertising medium of electric instruments."
(8) "HARAKENZO more " support people engaged in music industry
Music is a culture with long history, and is familiar with us and has significant effects on us regardless of our nations, generations, and genders. The music industry is expected to have numerous issues not only about copyrights but also about complex trademark rights with a shift to the digital age, and therefore it is necessary to adapt to the shift.
"HARAKENZO more " would always be pleased to assist those of you engaged in the music industry with protection of your intellectual properties. Please feel free to contact us.